Fleet of vehicles
Particular attention is paid to the care and maintenance of the fleet that consists of over 40 latest-generation operating units. The IVECO Stralis tractor units are Euro 6 and gas-powered vehicles natural liquefied (LNG). While the technologies and the support infrastructure of electric vehicles are still at the top steps, especially in the segment of medium and heavy commercial vehicles, gas vehicles offer a clean, sustainable alternative to diesel.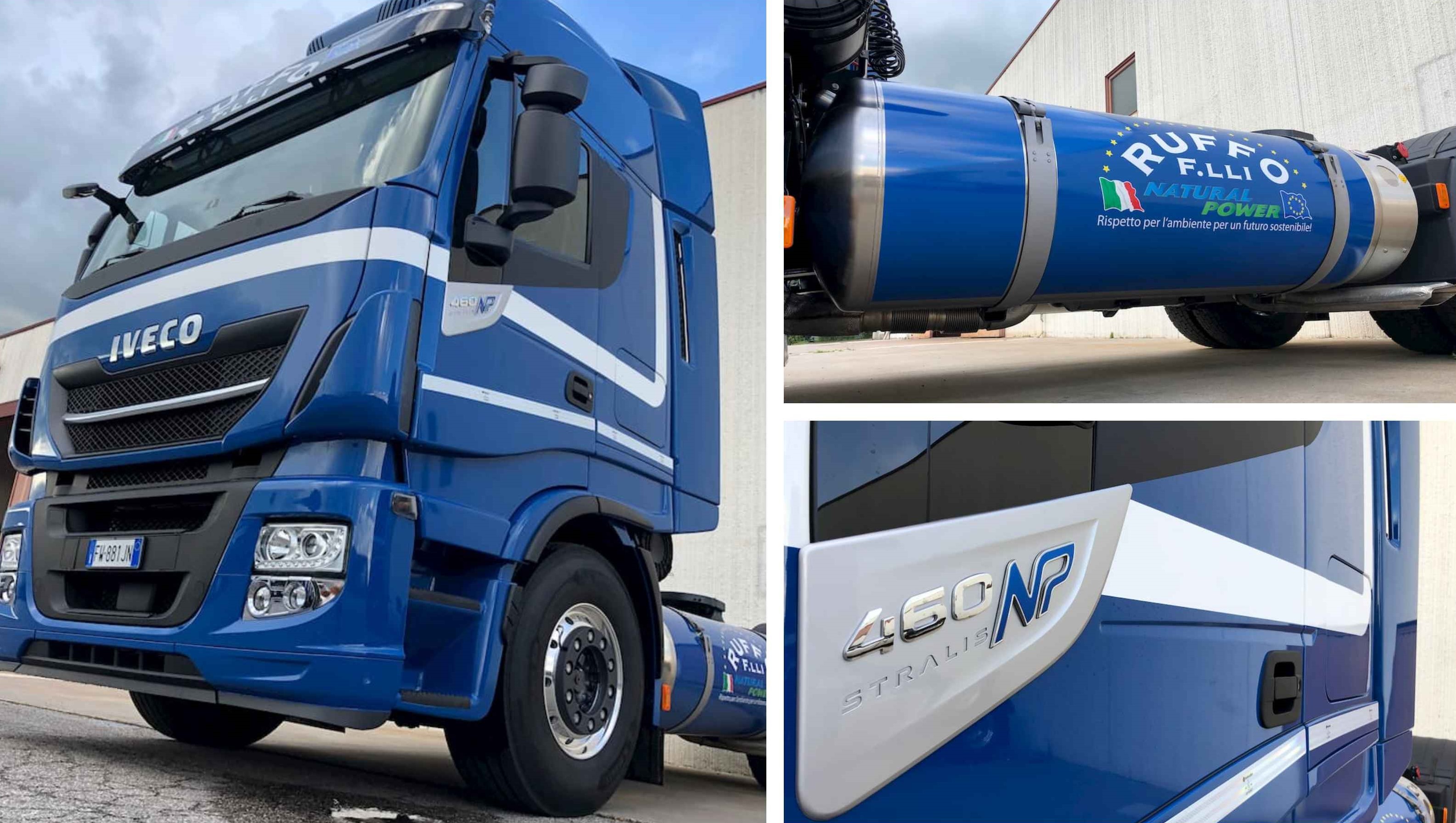 This is an advanced technology that contributes to improving air quality and life, with minimal emissions and a significant reduction in noise. Being i more environmentally friendly fuels for internal combustion engines, natural gas and biogas significantly reduce CO2 emissions - up to 95% with the use of biomethane.
Liquefied Natural Gas
The environmental impact analyzes show the way to go: with the same number of kilometers and weight, with a methane vehicle there is a 95% decrease in PM emissions , while the C02 emissions are reduced by 20% . Furthermore, the overall cost of a product's life cycle half a methane (TCO, total cost of ownership) is up to 7% lower compared to a diesel vehicle of last generation. The Stralis Np allows a reduction of NOx emissions of 32% , of Pm of 99% and of CO2 up to 95% in case of use of biomethane (energy form for which the Stralis np are already compatible) and a significant decrease in noise, to the benefit of the comfort of guide .
Tanks and Semi
The tanks we use are all Thermo-insulated with ATP regulations that can keep the loading temperature warm or cold for up to five days a loss of plus or minus one degree celsius, plus we also have isobaric tanks with operating pressures of 2.3 bar and have a capacity of 32000 / 32.500 / 33000 lt. about.
The semi-trailers we use are EcoTrailer Berger SAPL 24 SATA:
Steel frame 10,50 m
SAF INTRADISC plus full air suspension INTEGRAL Offset 120
SAF fixed axles with disc brakes 430 mm 22.5 "
WABCO-E Generation EBS 4S / 2M braking system with RSS anti-tipping
On these frames the different types of tanks are mounted:
Type 1
4 compartments of 11,000 / 6,000 / 5,500 / 10,000 lt. About, starting from the front
Interior in polished stainless steel according to our food standard
4 ø100 foot valves with top-mounted command
4 hatchways in box with insulated doors and rubber drainage pipes
6 Cip wash balls with rear drop
ATP-compliant insulation
Polished stainless steel cylinder coating
Berger frame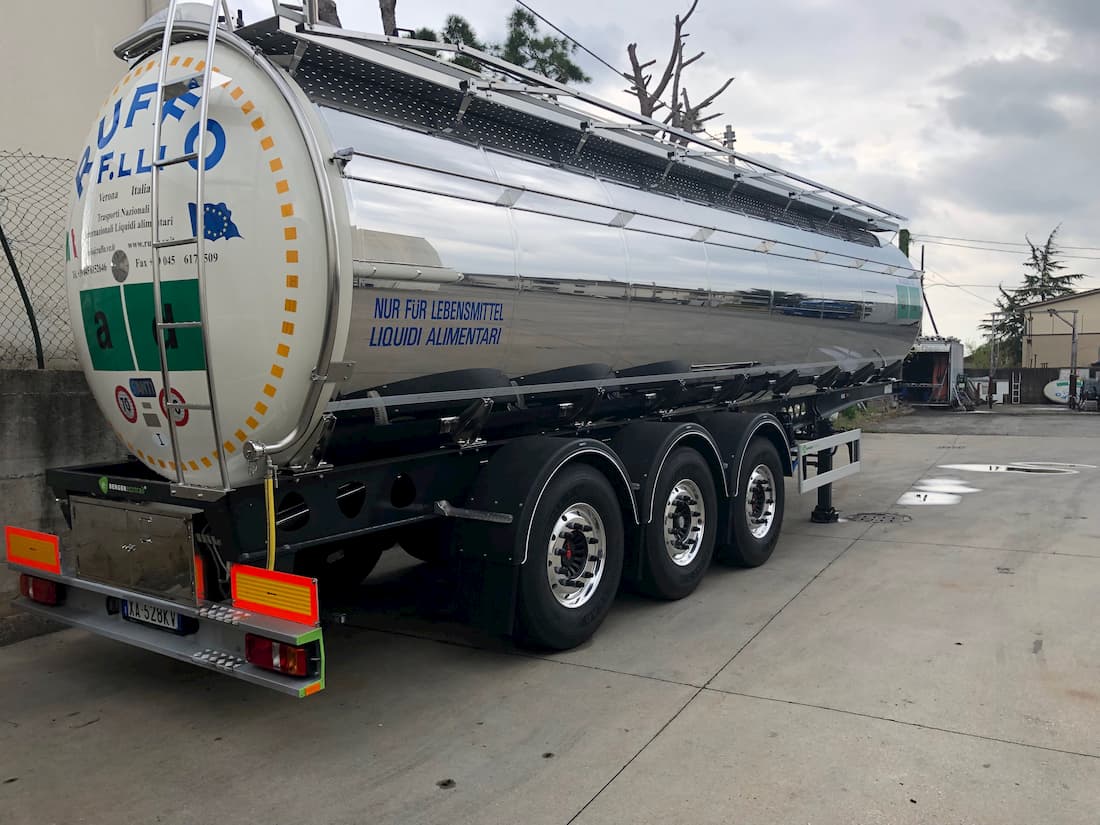 Type 2
3 compartments of 13000 / 6.500 / 13.000 lt. About, starting from the front
Interior in polished stainless steel according to our food standard
3 ø100 foot valves with top-mounted command
3 hatches in box with insulated doors and stainless steel tubes for nitrogen insertion in pressure
3 lids with safety valve set at 2.5 bar with pressure gauge on top line
7 Cip wash balls with rear drop
ATP-compliant insulation
Polished stainless steel cylinder coating
Berger frame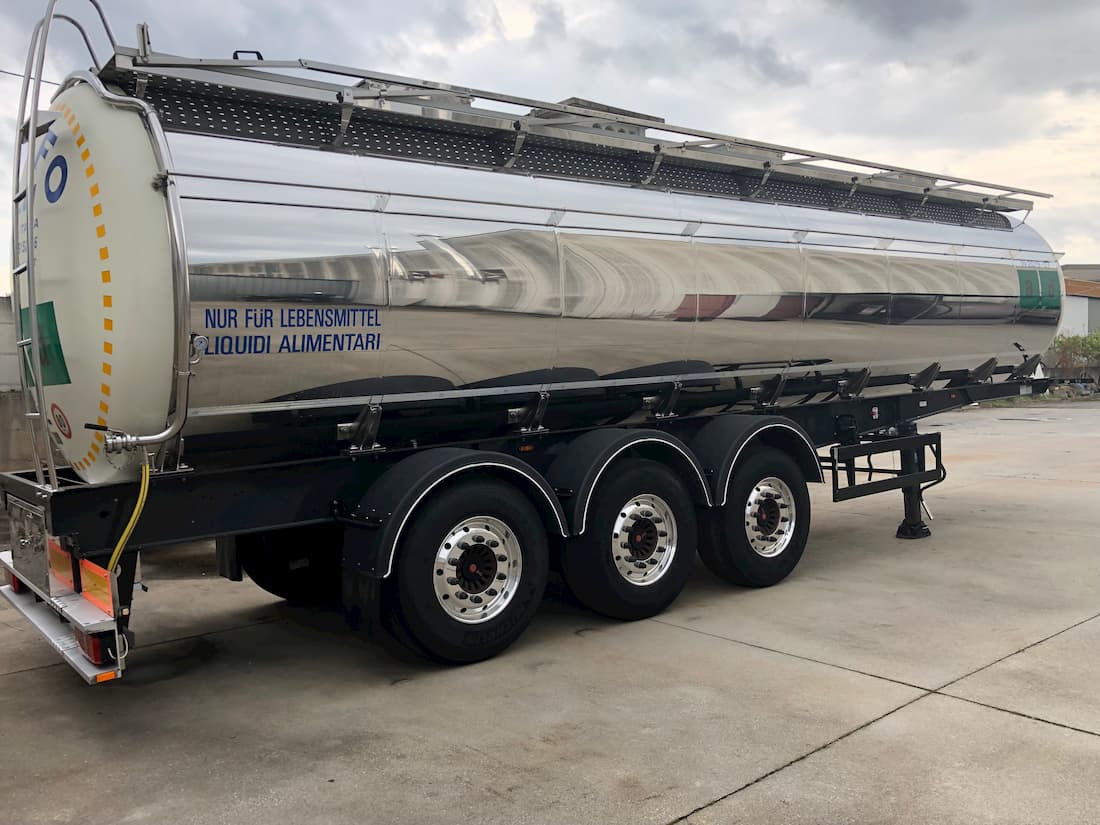 Type 3
4 compartments of 11.000 / 6.000 / 5.000 / 10.000 lt. About, starting from the front
Interior in polished stainless steel according to our food standard
4 ø100 foot valves with top-mounted command
4 hatchways in box with insulated doors and rubber drainage pipes
6 Cip wash balls with rear drop
ATP-compliant insulation
White fiberglass cylinder coating
Berger frame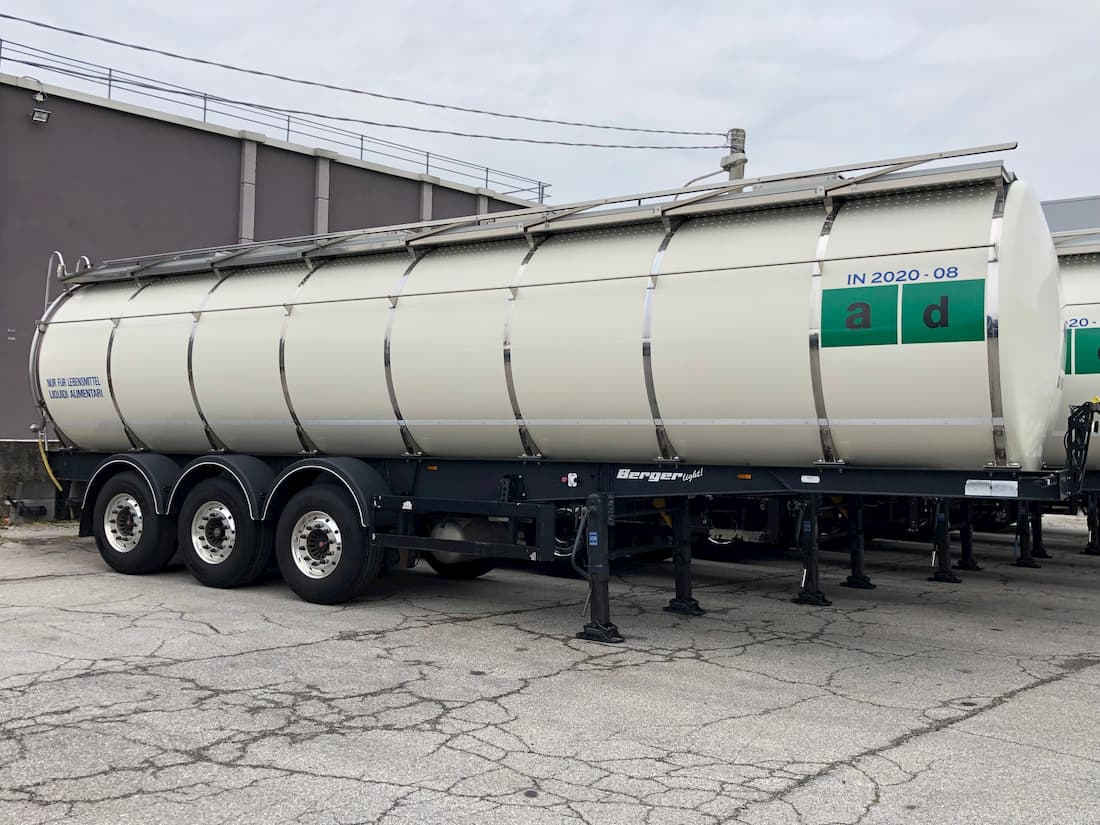 Type 4
4 compartments of 11.000 / 5.700 / 5.500 / 10.000 lt. About, starting from the front
Interior in polished stainless steel according to our food standard
4 ø100 foot valves with top-mounted command
4 hatchways in box with insulated doors and rubber drainage pipes
6 Cip wash balls with rear drop
ATP-compliant insulation
Polished stainless steel cylinder coating
Menci frame